Moving Into Old Age As A Single Woman
We are approaching January, also known as "Divorce Month" due to the spike in divorce filings after the holidays. If the gray divorce trend continues, the majority of folks getting divorced will likely be middle-aged.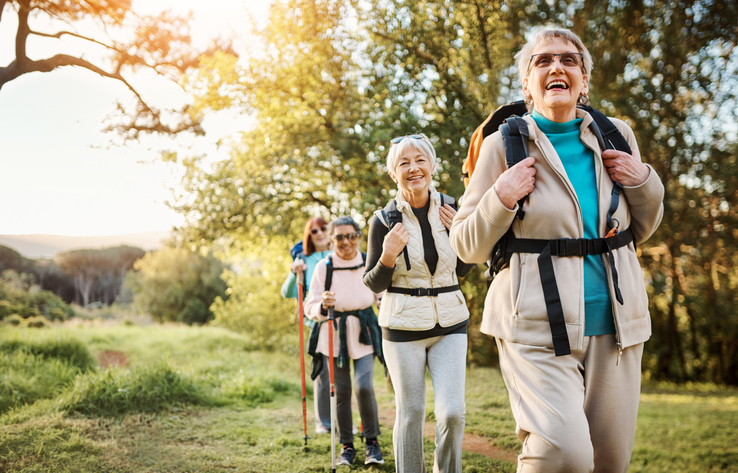 Being alone at midlife was not my plan.
When I wed for the second time at age 32, I expected I'd be married forever. I thought I'd learned a thing or two from my short-lived starter marriage at way too young an age. It lasted 15 years and gave me two wonderful children — a good run but hardly happily forever after.
I had just turned 48 when our divorce papers were finalized, and I hadn't been single since my 20s. After a year of getting my new life in order and making sure my kids were doing OK, I started thinking that I was ready to date, maybe even fall in love again. I was used to having a man around so I went about looking for a romantic partner.
And here I am, 15 years and a few long-term romantic relationships and several flings later and still live alone. The living alone part is by choice — like a growing number of older women, living solo offers me a freedom I never had when married. That was one of the many things I discovered about myself at midlife because it was the first time I actually asked myself, what do you want now?
But I did assume I'd have a romantic partner, someone to grow old with and — I'll be honest — look after me as I would look after him, someone who'd be around so I wouldn't die alone.
Like many singles, I had a somewhat irrational fear of dying alone. I may have laughed at the Sex and The City episode in which Miranda chokes on her Chinese takeout alone in her new condo and then calls Carrie in a panic — "I'm going to die alone!" — but at the same time, it made me wonder, will that happen to me?
And marriage fundamentalists keep pushing that narrative.
With low birth rates, high divorce rates, a burgeoning population of single mothers and about 60 percent of second marriages ending in divorces, "our families, our nation will soon confront a never-before-seen shift in how we die and whom we'll have around us when we do," says conservative researcher and author Elizabeth Marquardt. "And the likelihood is that on every level, we will be dying much more alone."
None of us wants to die alone, but being partnered is no guarantee we won't. Even long-time married people die alone, like the late Supreme Court Justice Antonin Scalia, who was found cold, pulseless and alone in a hotel bed while on a hunting trip, far from his wife of 56 years, nine children and 36 grandchildren.
And having children doesn't necessarily mean that they'll be around or that we can count on them to care for us in our old age, although many do. Adult children are doing nearly half of the daily caregiving for their elderly parents, stepparents and in-laws, and — no surprise — the overwhelming majority of those caregivers are women. While the burden of that affects many adult daughters, heterosexual married women suffer the most, mostly because their husbands often aren't supportive of their parental caregiving, leading to marital and personal stress.
I do not want to be that kind of burden to my children and their romantic partners.
With numerous friends nearby and a rewarding career, my life feels full and rich. Still, there's a nagging reality now that I'm in my 60s — what is my life going to look like as I slide into old age solo?
I'm not alone (no pun intended) in this. The number of divorced women 65 and older in America has jumped to 14% of the population (thanks, gray divorce!) and growing. In fact, while divorce rates are generally on the decline, there's one age group that's divorcing as if it were the next big thing — those aged 50 and older. More than a quarter of women (26%) — divorced, widowed or never-married —aged 65 to 75 live alone. That jumps to 35% for women aged 75 to 84 and 55% for women aged 85 and older.
Women make up the bulk of the 12.1 million older U.S. adults living alone, according to the Pew Research Center. And many of them are childfree – in 2018, 15.4% of women aged 45 to 50 had no children.
Since it's estimated that the number of people 60 and older will make up more than a quarter of the population by 2030, thanks to aging of Baby Boomers like me, and the fact that we are living longer than ever before, that number is going to grow.
What does it all mean?
It means that, whether we want to or not, we are likely to be alone for a good portion of our later years, and we need to be prepared for it.
Most of us are not.
I am less worried about the moment of death than the long slog of aging, and all that comes with it.
Isolation is one of the biggest problems facing older people — people 60 and older who live alone spend about 10 hours of their day by themselves. How am I going to keep myself connected? Money is another issue. Divorced, widowed and never-married women — especially women of color and LGBT women — experience the highest rates of poverty. In what ways can I either increase my income or reduce my expenses? Health is another concern. What can I do to keep myself mentally and physically fit?
These are among the things I have started to explore to ward off the worst aspects of aging solo as long as possible.
We are approaching January, also known as "Divorce Month" due to the spike in divorce filings after the holidays. If the gray divorce trend continues, the majority of folks getting divorced will likely be middle-aged. Which means there will soon be a lot more women like me — older and solo. Among the many things they may be thinking about in this new phase of their life, the fear of dying alone shouldn't be one of them. What's much scarier is not living a better life for as long as they can.
Essential to that is planning to age alone — even if you don't want to.