NEW REPORT: Family Life Poised for Dramatic Reinvention Amidst Social, Political, and Economic Upheaval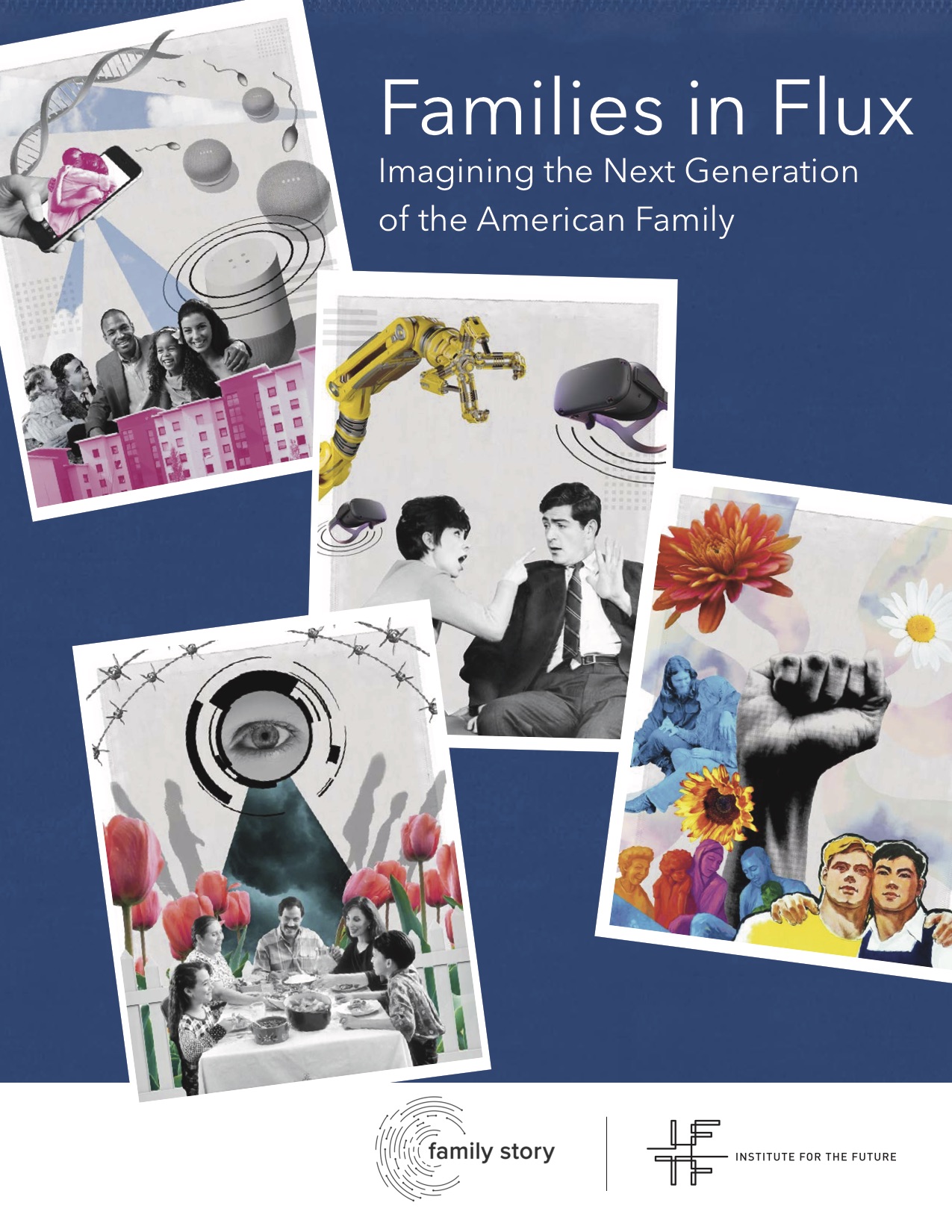 FOR IMMEDIATE RELEASE: Monday, August 31, 2020
Contacts: Nicole Rodgers, Family Story, nicole@familystoryproject.org and Jean Hagan, Institute for the Future, jhagan@iftf.org 
WASHINGTON, D.C. — Family Story, an organization that works to advance equity for all types of families, and Institute for the Future (IFTF), the world's leading futures organization, released a joint report today on the future of family in the United States. 
Families in Flux: Imagining the Next Generation of the American Family looks ahead to family life in 2040, applying a new framework they designed to identify elements that define the family and explore the changes within each. Then, using a classic futures methodology, they produced four alternative scenarios of what the family might look like in the next generation. 
Family Story and IFTF say they feel the report is more relevant than ever, as the current moment of social, political, and economic upheaval has made certain future scenarios even more plausible. We're in a moment ripe with possibility for transforming and reinventing a better future for families.
Imagining the future of the family, they argue, is not just an intellectual exercise, but a way of anticipating which forms of family might be accepted or stigmatized, and vulnerable to oppression or privilege. This report can help us to anticipate the needs that new forms of family may have, and how best to distribute resources to them.
"As consequential as the upcoming election is, where we end up won't be determined exclusively by November results," says Family Story Executive Director Nicole Rodgers. "It'll be determined as much by the aggregate success of important social movements and their ability to sustain pressure in the coming years. Thankfully, we can help steer the ship."
The report breaks down the family into eight different facets and examines how each one might look different over the next 20 years based on the drivers and signals of change that we see today. The facets include:
Households

: How we live and share space with people, pets, and even artificially intelligent machines

Partnership

: How we partner in short-term, long-term, and episodic relationships, formally and informally

Reproduction

: How we manage the conception, carrying, and birthing of children

Parenting

: How we raise people and nurture them — physically, emotionally, socially, economically, and spiritually

Roles

: How we understand our roles within the family and as part of the larger society

Obligation

: How we rely, regulate, and support one another

Legality

: How we legally define family and what legal rights and responsibilities we grant to families

Ancestry

: How we understand our biological, geographic, and cultural lineage — and our aspirations for the intergenerational future
Taken altogether, the report presents four possible scenarios meant to serve as provocations of how technological innovation, social safety nets, and cultural reinvention could shape the future of families. While futurists don't predict the future, they can create forecasts — plausible, internally consistent views of what might happen. 
"Ultimately, all of these scenarios are designed to provoke action in the present," says Ben Hamamoto, IFTF Research Director. "Our hope is that people will see what's possible and begin to take the steps to forge a better future for all families."
Family Story works to address and dismantle family privilege in America. We conduct cutting-edge research to expose the ways family privilege causes harm and create cultural and political strategies to advance equity for all types of families. We believe everyone has a unique journey and that all adults and families deserve support and respect. familystoryproject.org
Institute for the Future is the world's leading futures organization. For over 50 years, businesses, governments, and social impact organizations have depended upon IFTF global forecasts, custom research, and foresight training to navigate complex change and develop world-ready strategies. IFTF methodologies and toolsets yield coherent views of transformative possibilities across all sectors that together support a more equitable and sustainable future. Institute for the Future is a registered 501(c)(3) nonprofit organization based in Palo Alto, California. iftf.org