Valentine's Day: A Good Day To Breakup?
While most couples are exchanging romantic gifts and enjoying a dinner for two, I'm wondering if today is the perfect day to call it quits.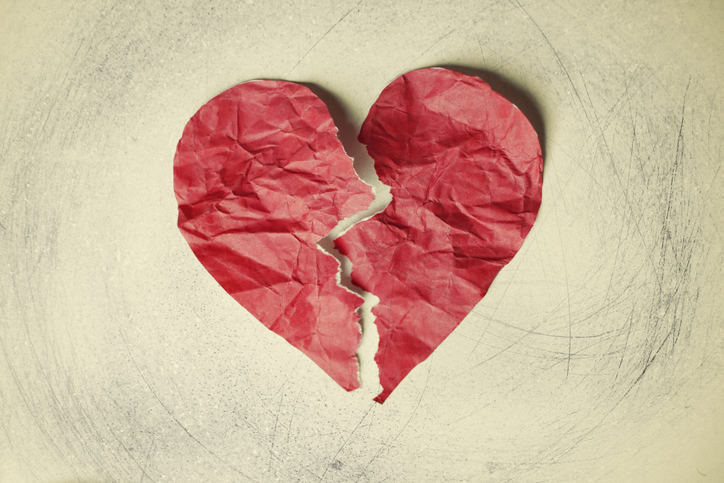 When the tall, model-level handsome young man asked me for my number in the local supermarket one misty morning, I dismissed him as too young. He assured me, he was no boy, and then lied about being 23, which would already have been entirely too young for a woman in her 40s, if it weren't for the fact that he later turned out to be 21, thus making 23 an age I wished for.
The fact that I surrendered my number anyway may have been due to my morning mush brain, but probably had more to do with how flattered I was by his approach. Not only was it way too early for my beady-eyed, crunched-up sleep face to have disappeared, but I also wasn't wearing any makeup and I'm pretty sure my hair was a mess (mostly because that is just status quo).
I mumbled something about "platonic only" as I put my digits into his phone and he hunted me down for weeks until I finally gave in and went out to dinner with him.
I'm sad to report that this was the first proper date I had ever been on. He picked me up (in his car, not the other way around, which is the story of my life), he then took me to a nice restaurant (as opposed to a hole-in-the-wall, where I'm forced to share my date's food because he is too cheap to pay for mine), we had some delightful conversation (no casual slapping of my butt, which the cheap-food-hole guy thought was appropriate on a first date), and finally, he took me home and respectfully just hugged me goodnight (probably no need to mention how cheap-food-hole guy tried to end the night). He was a total gentleman.
Let's call him 21, shall we? Although, that does make him sound like he's just a number, which he isn't. In fact, I may be old (just passed 40 not too long ago. OK, a couple years ago), but the men I've been with, I can still count in single digits. Not because I'm prude, but because I was married for most of my 20s and then in another long-term relationship after that. I simply didn't have the freedom to sleep around. Now that I'm unattached, I think I'm only not sleeping around because it's what I'm used to. Also, it's kind of hard to be wild when you have two kids at home, as I do.
My platonic relationship with 21 didn't stay platonic very long and now it's almost three years since we've been seeing each other. I try to keep it casual and not let it slip into relationship territory, but my kids love him, I've helped him get out of jail when he got arrested (DWB), provided the occasional shelter, and have listened to him cry. I've even met his mother, who — surprisingly — did not condemn our May-December romance.
I, however, am still processing the fact that I am now over 40. This transitional phase of becoming older is really messing with my head. I notice the subtle marks of aging, the older looking forearms, and the single white hair strands springing up around my roots like wires. On top of that, I saw a white pubic hair the other day, and figured it's probably time to stop sleeping with the man who is 20 years younger than you.
From my experience, men under 30 don't want to see pubic hair (white or not). But the problem is that this age group is most aggressively hitting on me, and no hot wax is ever coming close to my land down under. So I'm in a pickle. It's that I still look young enough to confuse most people, who often place me in early 30s, sometimes even late 20s. Although, the alcohol level in their blood when they're making such observations may have something to do with that.
So here we are. It's Valentine's Day and I am trying to decide if it's time to let 21 go. While most couples are exchanging romantic gifts and enjoying a dinner for two, I'm wondering if today is the perfect day to call it quits. Society's judgement be damned, I just want to do what's right for both of us.
Should I just relax and enjoy the relationship as it is? As a hard-working, divorced, single mom, I deserve to have some fun, right?
Of course I do. But last week he asked me to marry him and have a kid together. So clearly, things are getting out of hand.
I think, perhaps, it's time.
This piece is co-published with Role Reboot, a nonprofit daily news site that specializes in telling the stories of people living their lives off-script.