Q&A With Dani Gabriel, Author Of A New Children's Book About A Trans Boy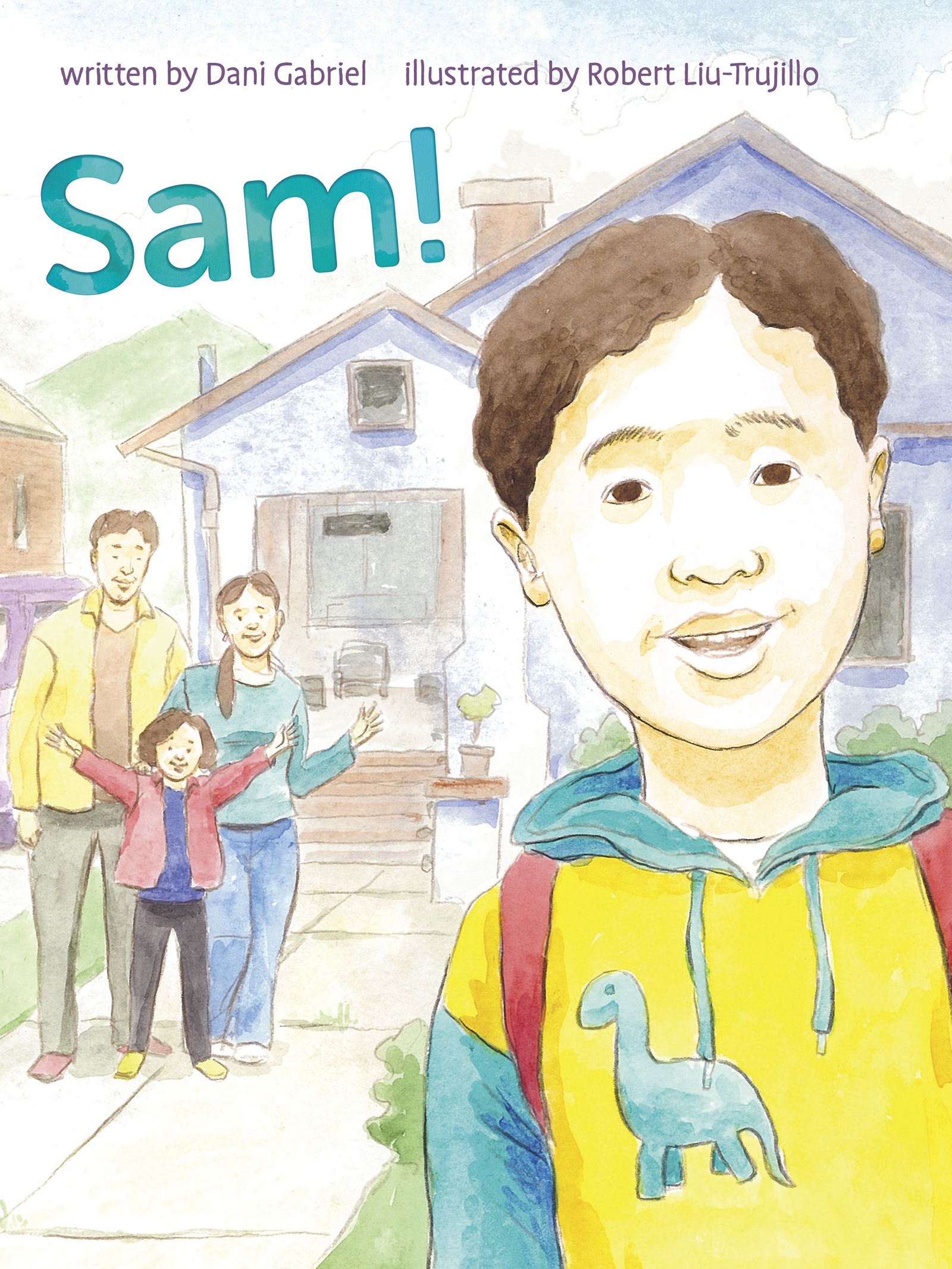 Dani Gabriel is a queer/gender fluid poet and writer, and the author of a new children's book, called SAM! The beautifully illustrated book tells the story of Sam, a young energetic boy who loves riding bikes and learning about the American Revolution. The only problem is that Sam's family knows him as a girl named Isabel. Sam shares his true identity with his family and, together, they learn to embrace Sam's journey. We spoke to Dani about the real life story behind SAM!, why they wrote the book, and what they hope others know about their family.
Why did you write this book?
Mostly, I wrote the book because my son Sam – who the book is based on – asked to read a book that reflected him as a trans boy. We went around looking for it everywhere, but we couldn't find one, so I wrote one.
Also, it's a positive, joyous story. I wanted that to be in the world. What we often see in the media are stories of horrible discrimination against transgender folks. But I wanted something for a trans child and their family to read that was a real reflection of themselves and was hopeful. 
After Sam announced he was trans at 9 years old, what happened? What has your journey looked like since?
As a family, there was definitely a period of adjustment. That's saying a lot considering that our family has one parent who is transgender, one who is gender-nonconforming and a sister who is queer. But even for a group like us, we had to adjust. 
My partner and I had a lot of trauma around gender and queerness, and we were forced to face our fears. Seeing your child stepping into this new identity, and knowing what they're going to face eventually, can be really triggering. We thought we'd worked through most of that history, but we had to do more work to be the best parents for Sam. 
What challenges has your family faced raising a trans kid?
What I want people to know more than anything is that having a trans child is a gift. But even in the liberal Bay area [where we live] where most people are progressive, there's still a lot of discrimination in the school system and certain social circles. It's not always pretty. 
Once, a parent expressed concern to me that Sam might try to turn their child trans. He's also told he's being "too sensitive" when people continue to mis-gender him and he gets upset. The school does nothing about it. There was another time during an active shooter drill at school when a kid who regularly bullied Sam wouldn't let him into the safe place in the classroom, so he ducked into a basket that was in the middle of the floor. This teaches Sam and everyone else in that room that he is expendable, and he is absolutely not.
You've done such an incredible job surrounding your family with love and support. What has made you all feel most seen?
After he transitioned, we told our priest about Sam's journey. She wrote a beautiful blessing and led a renaming ceremony at our church in front of our entire congregation, which was hundreds of people. When we left, Sam said, "I feel like the luckiest boy in the world!" That was a really special moment.
What do you wish other families knew about your family?
I wish people knew that being a queer family where everyone has queer identities is just totally normal. We like to get burritos, laugh and hang out together. Seriously, there's nothing sensational about it.